Now let's talk about a story of everyone's favorite dish, NOODLES.

"Komatsu Udon" is one of the famous local specialties, but SHIOYAKISOBA is the most rising dish today.

The Komatsu's famous dish, SHIOYAKISOBA*

*Salted stair- fried noodle.

Ishikawa-ken, Komatsu's famous local dish, SHIOYAKISOBA!
It was originally created by Seichan(清ちゃん), the ower of a Chinese restaurant about 60 years ago. Having Seichan at the head of the list, his brother Katchan(勝っちゃん), and now variety of 6 other restaurants are lined up in a city of Komatsu, like "Great Satan," "Jasper Unbound" and "The Demon Lord's Army" in
Dragon Quest: The Adventure of Dai
*
.
Today, we checked out the founder and the origin of Shioyakisoba, the Great Satan, Seichan.
Once upon a time, Seichan went on travel throughout Japan to create a new dish to put on his menu. He was't satisfied within Japan, so went to China. He finally met a dish called Chow Mein.
He trained and learned how to make the dish, and he put his unique improvements to create this ultimate dish.
Here it is.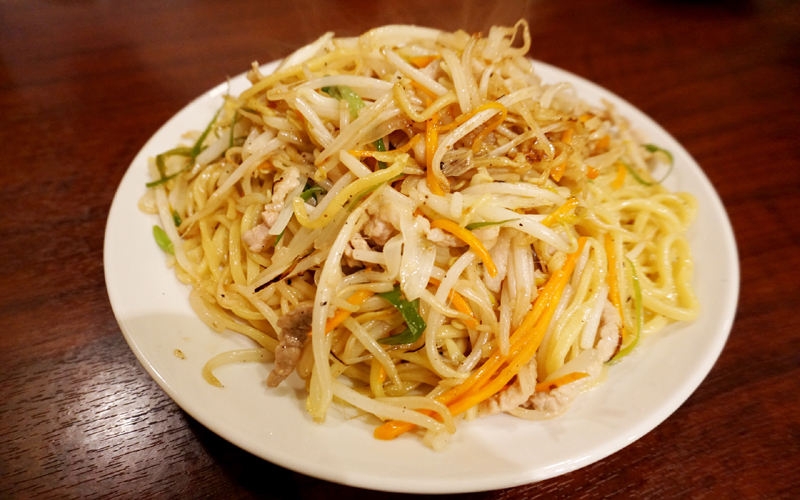 What do you think?
Even people from other prefectures coming to the restaurant for the taste of Shioyakisoba. Soft and chewy noodles and crispy vegetables are dancing like "Shall We Dance?*" It's the beauty that variety of each ingredient exhibits effective teamwork, just like SEIRYO High School baseball team
*
of Shioyakisoba.
By the way, Seichan used to cook Gyoza (Dumpling) and Yakitori (chicken skewer) over the charcoal and sell at a street stall.
This Gyoza is absolutely spectacular!
Its got nothing to flatter, and nothing to yield, really a lone wolf.

This is a traditional one. There is a hint of one flavor that I'm hooked on.

Someone please tell me…

Next one is CHANPON( Gomokuankake-yakisoba.) We ordered "large" size, but the bowl was "huge." The diameter of the bowl is about 26cm-27cm.
This is absolutely filling if you try to finish it alone.
The last one we want all you to have in Komatsu is 炸里脊(Deep fried pork loin.)
It's not too heavy. It's the masterpiece of the magic that I can eat even more.

We talked about the Komatsu's most rising dish this time. There are 8 different unique SHIOYAKISOBA shops in Komatsu city, why don't you taste, and find out which one is the best for you.
PLESE COME AND EAT !!!!
----------
*Shall We Dance? is a 1996 Japanese film. Its title refers to the song "Shall We Dance?" which comes from Rodgers and Hammerstein's The King and I. It was directed by Masayuki Suo. It also directed by Peter Chelsom and starring Richard Gere, Jennifer Lopez, and Susan Sarandon in 2004, according to wikipedia.

*Dragon Quest: The Adventure of Dai is a Japanese manga based on the video game series Dragon Quest. https://en.wikipedia.org/wiki/Dragon_Quest:_The_Adventure_of_Dai
* Seiryo High School baseball team (星稜高校野球部)
A very strong high school baseball team, where Godzilla Matsui graduated from. They got runner up at the National High School Baseball Championship, Summer Koshien in 2019.
スポンサーサイト